How Alcoholism Interventions Help Families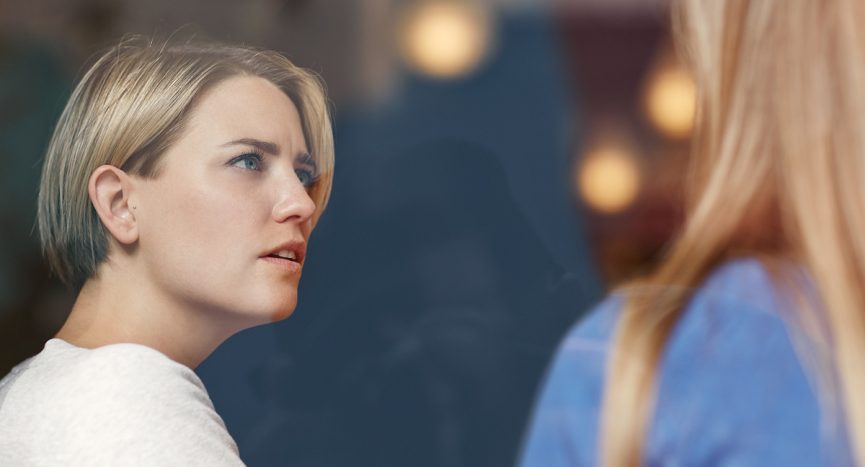 Alcoholism affects millions of people and families in the United States each year. It is a common and growing problem among our country that almost everyone comes into contact with at some point in their life.
According to a study conducted by The National Institute on Alcohol Abuse and Alcoholism in 2014, they found that 16.3 million adults ages 18 and older (6.8 percent of this age group) had an Alcohol Use Disorder.  Of those, only 1.5 million adults in that age group actually received treatment. These are alarming statistics that demonstrate how many people are dealing with alcoholism in their families.
Often when someone is suffering from alcoholism his or her whole family suffers as well. It's very painful and disheartening to watch a loved one destroy their life with alcohol. At some point families of alcoholics are left with no choice but to resort to an intervention.
In this article, we will discuss the dynamics of families dealing with alcoholism as well as how to know if an intervention may be necessary. It is important to understand how families are affected by alcoholism, how they can get help in dealing with an alcoholic family member, and what an intervention is, as well as the purpose of holding an intervention.
How Are Families Affected By Alcoholism?
"Addiction is a family disease that stresses the family to the breaking point, impacts the stability of the home, the family's unity, mental health, physical health, finances, and overall family dynamics." – The National Council on Alcoholism and Drug Dependence
Alcoholism destroys families just as much as it destroys individuals. Living with or around an alcoholic is exhausting, frustrating and heartbreaking. It creates abnormal and unusual stress because it disrupts normal routines with unexpected, unwanted and sometimes scary situations around an alcoholic's behaviors.
Often an alcoholic will hide from, lie to or manipulate family members to try to maintain some sense of order while they are gradually falling further into their addiction. Denial and minimizing the problem are standard reactions from alcoholics that create so much tension inside families.
Family members become uncertain of how to help an alcoholic without being sucked into their world. Alcoholism can completely destroy family life and cause a lifetime of harmful and lasting effects.
How Do Families Get Help For Alcoholism
There are support groups for family and friends of people who are suffering from both addiction and alcoholism. Two of the most common groups are Al-Anon and Nar-Anon. These support groups are a great way to connect with others who are facing the same challenges as you may be facing with their own loved ones.
Another important way for families to get help is to seek therapy. Mental health is a very important aspect of dealing with an alcoholic. Therapy is a great way to learn better communication skills among the family, create or reestablish family balance and provide a safe place to express emotional distress such as anger, grief or fear.
Beyond getting individual or family support and therapy, it is also a good idea to meet with a professional interventionist to determine how to help a family member whose drinking has gotten out of control. An interventionist can help counsel and provide help for the alcoholic's family members by explaining how the process works and facilitating the planning process leading up to an intervention.
What Is An Alcoholism Intervention?
This is when a family comes together with professional help to confront the alcoholic about how their drinking is affecting everyone involved. During the meeting, they each provide specific details of how it has been a problem in each of their lives. Not only that but the alcoholic's family also outlines treatment options as well as consequences for not seeking help.
What Is the Purpose Of an Intervention For Alcoholism?
This is a time that allows family members and close friends of an alcoholic to express concern for his or her health and well-being.  The purpose of an intervention for an alcoholic is to:
Offer the opportunity for families and friends to present their loved ones with a chance to understand and accept their problem.
Describe to the alcoholic that there have been continued examples of alcoholism and destructive patterns around their drinking.
Explain how treatment programs can help and would work
Have an interventionist involved in professional planning and management of the intervention.
Answer any questions or objections the alcoholic may have as it relates to getting help.
Formalize consequences of the addict's actions should they refuse to seek treatment.
Finding The Right Alcohol Treatment Program
Contact us today for more information on our treatment programs to offer your loved ones during an intervention and for the support you may need in assisting them in getting the help they need.
Medical Disclaimer: The Recovery Village aims to improve the quality of life for people struggling with a substance use or mental health disorder with fact-based content about the nature of behavioral health conditions, treatment options and their related outcomes. We publish material that is researched, cited, edited and reviewed by licensed medical professionals. The information we provide is not intended to be a substitute for professional medical advice, diagnosis or treatment. It should not be used in place of the advice of your physician or other qualified healthcare provider.