Organize and Attend Online Recovery Meetings from Anywhere at Anytime
Due to the recent outbreak of coronavirus (COVID-19), social distancing has made it necessary for people to avoid in-person events like addiction recovery meetings. You may be staying at home to help your community, protect your family, or because you're sick or caring for a loved one.
Whatever the reason, it doesn't have to get in the way of your recovery. Free online recovery meetings can help you keep in touch with your support group so you can safely work together to stay sober.
Flexibility
There is an online recovery meeting for every day of the week and most times of day, so it's usually easy to get something that fits your schedule.
Anonymity
Staying anonymous helps people support each other without fear of judgment. Online meetings held in video and chat rooms can be completely anonymous with made-up screen names you choose.
Convenience
Online recovery meetings can happen anywhere with a stable internet connection. You can be at home or traveling abroad and still attend your meeting.
Comfort
For many, attending a meeting from the safety of their own home can make the recovery process more comfortable. Others may enjoy not having to commute to their meetings.
A Wider Network
In-person meetings are sometimes limited in size and location. Online support groups help you access new people and perspectives you may not get locally.
Access To Specific Topics
Online recovery meetings can bring people together for targeted meetings for women, veterans, LGBTQ+ people, adolescents, speakers of different languages, families of addicts and more.
What to Expect
Feel encouraged. Hearing other people's similar experiences with addiction and recovery and telling your own story can bring you hope and comfort during the process.
Be accountable. Seeing your peers each week can instill more responsibility for your actions than going through recovery alone.
Cope with challenges. People in recovery can give you practical tools and helpful advice to cope with life's challenges.
Grow relationships. Support groups are a place to make new friends, build trust and get a fresh start with people who are rooting for your lifelong recovery.
A Great Solution For…
Online AA Meetings: Online AA support groups, just like in-person ones, follow a 12-step program to recover from alcohol addiction. Some of these steps include admitting a lack of control, recognizing a higher power, self-reflection and making amends.
Smart Recovery Online Meetings: Smart Recovery online meetings are based on cognitive-behavioral therapy in a 4-point program. These meetings help people understand their own behavior and thought processes to change their actions moving forward.
NA Online Meetings: Also using a 12-step program, Nar-Anon online meetings are designed for people addicted to narcotics and drugs in general.
How It Works
Many online recovery meetings use video conference calls so members can see and hear each other over the internet. Video conferences allow for more non-verbal communication than a phone call, which can help you better connect with fellow attendees. Participants can also choose whether they're seen or not and can mute themselves if they desire. Some programs also offer chat room texting options to use when the internet connection isn't stable.
For those who may not be comfortable with computers or the internet, meeting online can seem intimidating or stressful. Thankfully, people host online addiction recovery meetings on many platforms and websites. There's a good chance you'll find a program you're comfortable with.
For example, The Recovery Village Recovery Room app is easy to use, free and anonymous for up to 50 attendees. To host a meeting, you'd follow these steps:
Sign Up
Answer a few questions about yourself and the time and date you'd like to schedule.
Tell Everyone
Share the provided meeting link with your attendees through email, text or any other method you'd like.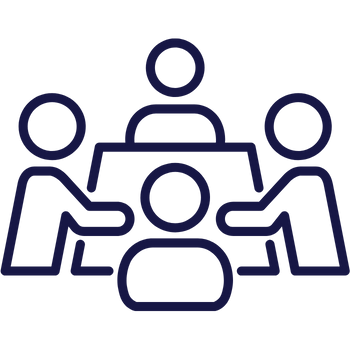 Join The Group
Everyone clicks the link at the desired time to enter their meeting.
FAQs
Questions? Here are some frequently asked questions.
Do I have to provide any credit card information to get started?
The Recovery Village Recovery Room app is free to use. You will never be asked for payment information.
How many people can attend my meeting?
Group sizes are limited to 50 attendees on video, including the host.
What kind of recovery meetings can be hosted with this service?
The Recovery Village Recovery Room app can be used for any online drug and alcohol recovery meetings, including AA, NA, SMART Recovery, Al-anon and more.
Is there a limit to how many meetings one can host?
There is no limit to the number of meetings you can host free of charge.
Will the identity of my meeting attendees be anonymous?
Information shared on the app is protected by HIPAA privacy regulations and encrypted. Just like in-person meetings, attendees have a responsibility to keep anything they hear in an online meeting confidential. By using the app, you've agreed not to share others' information.
Can I join a meeting on my phone or tablet?
You can join meetings using a laptop or desktop computer, mobile phone or tablet using Google Chrome, Mozilla Firefox or Safari. The device should have a connected camera and a microphone.
Are online meetings available for people in Canada or other areas outside of the US?
The Recovery Village Recovery Room app is available for international hosts or participants, however the app complies with U.S. HIPAA regulations and confidentiality laws. Other countries may have different privacy regulations that may or may not apply to using this app.
How can I locate other online recovery meetings?
Many addiction support group organizations also offer search tools to find online meetings using different platforms. Here are a few: Al-Anon Electronic Meetings (video conference calls, VoIP and phone) Nar-Anon Family Groups Forum (forum only) Online Service Area Of Cocaine Anonymous (email and VoIP only) Marijuana Anonymous Find a Meeting (video conference calls, voice, chat rooms and phone) Crystal Meth Anonymous (CMA) Meeting Directory (video conference calls and VoIP) Smart Recovery Online Meetings & Events (video conference calls, VoIP and chat rooms) Some locator apps for local addiction recovery meetings, like SoberMap, also offer online meetings in their search, so they can be a good resource to check.

Organize an Online Recovery Meeting
Many addiction treatment programs make attending a support group a mandatory part of an aftercare plan because of the numerous benefits for those in recovery from addiction. If your circumstances make it difficult or impossible to attend an in-person meeting, online recovery meetings can be the solution that helps you commit to lifelong wellbeing.
If your regular support group can no longer meet in person due to coronavirus (COVID-19) concerns,
The Recovery Village Recovery Room app can help.
Host a meeting online for a convenient, free and anonymous solution.
Legal Disclaimer
Information regarding client's health care is protected by two federal laws: The Health Insurance Portability and Accountability Act of 1996 (HIPAA) 42 USC 13220det seq., 45 CFR Parts 160 & 164, and the Confidentiality Law 42 USC 290dd-2, 42 CFR Part 2. I understand that the confidentiality of psychiatric, alcohol, eating disorder, and drug abuse client records is protected by Federal Law and regulations. As a visitor to this telehealth platform and by accepting below, I acknowledge my responsibility to keep confidential all patient medical information I may acquire. Further, I agree not to reveal to any person or persons, except authorized clinical staff and associated personnel, any specific information regarding any patient, including patient name, presence in treatment or nature of care rendered to such patient. Advanced Recovery Systems, LLC is not affiliated, associated, authorized, endorsed by, or in any way officially connected with Alcoholics Anonymous or Narcotics Anonymous, or any of its subsidiaries or its affiliates. The official websites for Alcoholics Anonymous and Narcotics Anonymous can be found at https://www.aa.org/ and https://www.na.org/. Information communicated via this telehealth platform by Alcoholics Anonymous or Narcotics Anonymous is not intended to be medical advice by Advanced Recovery Systems, LLC. We ask that all participants using the site be considerate and respectful and to refrain from demeaning, discriminatory or harassing behavior and speech. Please be mindful of your surroundings and fellow participants. This platform is not a 911 or emergency service. Do not use this site to report events presenting an immediate threat to life. If you require emergency assistance, please contact your local authorities.
---
How to Host a Meeting
Participants who use The Recovery Village Recovery Room app can host unlimited meetings through videoconference calls. Setting up a meeting is simple:
Type in your name, email and phone number.
Type in your organization (AA, NA, etc.) and a name for your meeting room.
Once the meeting room is ready, hosting the meeting is also easy:
Check for an email or text message with your meeting link and pin code.
Share your meeting link and pin code with your attendees via email, text message or any way you'd like.
When it's time, every attendee clicks the meeting link, types in the pin code, and joins the meeting.
To protect the confidentiality of participants, our meetings platform complies with federal and state health care privacy regulations and standards. People in recovery interested in hosting an online recovery meeting can learn more about features, read FAQs and more.
Our Mission Continues Online
Providing tools and resources to support patients' successful recovery after leaving our facility has always been an integral part of the comprehensive, evidence-based treatment at Orlando Recovery Center. The Recovery Village Recovery Room app, like many of our online resources, extends this philosophy to the entire recovery community. Participants do not have to be former or existing patients with us to use the app or host a meeting.
Orlando Recovery Center remains open and we are admitting patients. Please contact us if you have any questions about referring someone into our care or our available treatment options, including teletherapy for partial hospitalization, intensive outpatient and outpatient care.