Drug and Alcohol Addiction Treatment Resources in Spokane, Washington
If you or a loved one is struggling with addiction, help is available. Speak with a Recovery Advocate by calling
(360) 857-0007
now.
Drug use is prevalent in the state of Washington. According to the National Institute on Drug Abuse, the state of Washington recorded 742 overdose deaths as a result of opioids in 2017. The University of Washington's Alcohol and Drug Abuse Institute reports that nearly 26% of people admitted to treatment facilities for substance abuse issues in 2015 did so because of heroin abuse. Fortunately, in urban areas such as Spokane, drug rehab facilities are available. Entering rehabilitation can be an effective way to find long-term recovery.
Our Closest Facility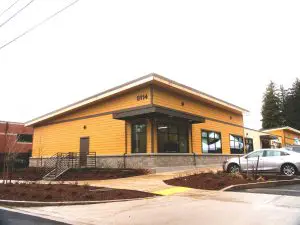 The Recovery Village Ridgefield Detox Center
5114 NE 94th Ave Vancouver, WA 98662
(844) 527-0121
Why Choose Rehab in Spokane?
Drug treatment in Spokane, Washington, has access to the best in research-backed drug therapies and mental health treatments. Drug rehab in Spokane, Washington, includes a continuum of care from detox to sober living facilities that can help people find freedom from addiction. These resources are available throughout the city and in surrounding areas.
Drug and Alcohol Rehab Centers in Spokane
When a client begins treatment in a Spokane addiction recovery center, they will gain access to a variety of programs best suited to their recovery needs. Some people entering treatment have lifestyle factors that limit their ability to move into a rehab facility. Other people require extended medical detox for severe addiction habits. It is important to understand the different services and types of treatment available.
Detox Centers
Detox centers in Spokane, Washington, provide medical services that facilitate the physical process of abstaining from drugs and alcohol. Spokane detox may provide drug therapies, drug replacement and other medical care during this stage of recovery. Community detox services in Spokane will take place in a medical facility and be accompanied by the supervision of doctors and nurses. Once detox is complete, regu
Inpatient Treatment
Inpatient alcohol rehab centers in Spokane, Washington, provides supervised treatment where the person in recovery moves into a rehab facility full-time. Inpatient drug rehab in Spokane, Washington, provides the highest level of medical attention, sometimes offering around-the-clock nurse care. Accountability is strict and this is an intensive time for addiction recovery treatment. Long-term treatment plans are usually started during inpatient treatment and can carry clients through into aftercare and sober living support.
Outpatient Treatment
Outpatient treatment in Spokane, Washington, is a form of treatment where the client does not live in a hospital but attends regularly scheduled appointments. Outpatient drug rehab in Spokane can be conducted in a hospital, medical facility, addiction recovery facility or mental health facility. Counselors and even non-profits may all provide services that are considered elements of outpatient treatment.
Aftercare Programs
Aftercare is a vital component of addiction recovery. Aftercare services provide support for people who want continued community and connection after the medical components of addiction treatment have concluded. This kind of care also ensures ongoing accountability and growth that contribute to long-term sober living.
Recovery Meetings in Spokane
Multiple kinds of recovery meetings can be attended at any stage of drug and alcohol addiction recovery. Recovery meetings are meant to provide a consistent source of support and encouragement for people before, during and after rehabilitation.
Local Substance Abuse Prevention Efforts
Officials and community leaders in Spokane recognize and work hard to prevent substance abuse. The Spokane Regional Health District provides youth substance abuse prevention resources. In 2018, local educators and advocates in Spokane received a grant from the state legislature to provide increased substance abuse prevention and treatment services for students from kindergarten through 12th grade. The Recovery Village Ridgefield is located about a five-hour drive away from Spokane and provides a full continuum of care for addiction recovery.
Government Initiatives
Local government officials recognize the need for proactive efforts to resist the growth of substance abuse issues in Spokane. Public health and other considerations motivate legislators and community officials to fund and staff programs that help treat people living with poor mental health and addiction. Spokane drug court is a therapeutic approach that provides a structured program for adults who have been charged with criminal activities related to drug use. By providing non-incarceration opportunities, many adults are rehabilitated.
Community Organizations
The Greater Spokane Substance Abuse Council is an organization that provides meaningful resources and support for people with substance abuse issues. Their services include:
Advocacy for legislation
Grant requests
Driving Under the Influence education and victim support
Washington Drug-Free Youth testing programs in schools
Training and events
This and other organizations provide ongoing support for the community and contributes to improving public health through substance abuse prevention services.
College Services
The University of Washington has an Alcohol and Drug Abuse Institute that provides significant resources for substance abuse prevention and treatment. The local community college, such as Spokane Falls Community College, offers addiction studies courses as well as student resources for addiction issues. From education to treatment, educators in Spokane are leveraging their influence to deter substance abuse on college campuses.
Substance Abuse Treatment Resources in Surrounding Communities
There are a number of cities around Spokane, Washington, that have a lot of additional substance abuse resources to offer in the form of drug and alcohol rehab, detox centers, recovery meetings and medication-assisted treatment. Here are several cities that you might want to explore.
Seattle, Washington
Tacoma, Washington
Renton, Washington
Redmond, Washington
Kent, Washington
Everett, Washington
Bothell, Washington
Olympia, Washington
99201
99202
99203
99204
99205
99206
99207
99208
99212
99216
99217
99218
99223
99224
Let's talk about your recovery