Age-Specific Overdose Rates in Washington in 2024
If you or a loved one is struggling with addiction, help is available. Speak with a Recovery Advocate by calling
(855) 602-7202
now.
Not every generation of Washington State residents is impacted in the same way by the current drug epidemic that is sweeping the nation. While it is clear that substance misuse and its deadly aftermath in the form of overdose is on the rise across the state, evidence suggests that various age groups are feeling the effects of the epidemic to a greater or lesser degree and that age does appear to be a factor.
The Henry J. Kaiser Family Foundation has a collection of data on opioid overdose deaths by age group going back to 1999, which is a wonderful tool to bring to light the seriousness of the opioid public health crisis to all individuals in Washington State.
Washington State Drugs Trends
The overall Washington State drug overdose trend, regardless of age, is increasing. From a total of three hundred and fifty-three in 1999 all the way to seven hundred and nine in 2016, the steady consistent climb in Washington State drug overdose fatalities is concerning.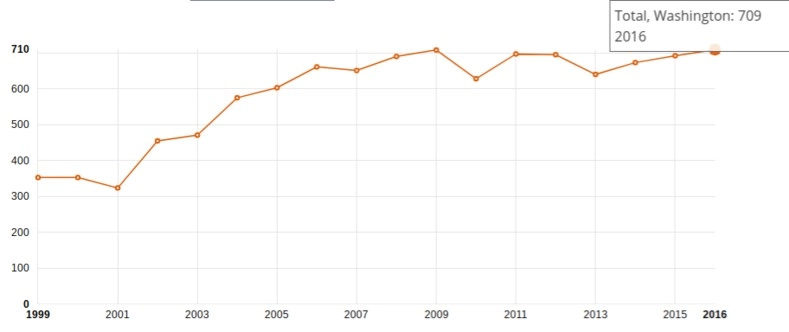 Drug Overdoses in Young Adults
You probably would think that the age group that has seen the greatest climb in age-related Washington State drug overdose is the young adult population or individuals up to age thirty-four. The media often portrays the younger generation as struggling with opioid use disorder in a higher volume than their elder counterparts.
This is not a false perception, as there is clearly a significant rise for both the zero to twenty-four age group and twenty-four to thirty-four age group in Washington State since 1999, with over a one hundred percent increase for each group. However, this age group does not actually have the most significant increase in Washington State drug overdoses from 1999 to 2016.
Increasing Drug Overdose Among Seniors
Probably the most interesting, and most surprising, age group trends in Washington State drug overdose rates with opioids is the fifty-five and older age group. Opioid overdose deaths were practically negligible prior to the new millennium. Flash forward sixteen years later and deaths among the senior population are over two hundred. That is a staggering 900-percent increase.
Reasons for this increase can be attributed to an increase in opioid-based pain pill prescriptions. The older population is prone to chronic pain, a primary ailment treated by opioids. It is also a common precursor to opioid addiction as more than thirty-five percent of people over the age of fifty with a valid prescription for opioids reported misusing the prescription.
This data drives home the fact that, regardless of age, opioid addiction is a danger that is not losing momentum over time. You or someone you love could be the next victim of a Washington State drug overdose if you currently battle an addiction without seeking guidance from experts in the field of recovery. Even if you have received a legitimate prescription for pain, you could be at risk for a substance use disorder if you do not continue to educate yourself on the subject. Several Washington State addiction treatment resources are available to you and your loved ones no matter what degree of substance misuse is present.
Do not become another Washington State drug overdose statistic. Contact The Recovery Village Ridgefield for confidential, qualified help. You can call anytime and know that you will be heard and helped.
Let's talk about your recovery