Drug and Alcohol Addiction Treatment Resources in Bellevue, Washington
If you or a loved one is struggling with addiction, help is available. Speak with a Recovery Advocate by calling
(855) 602-7202
now.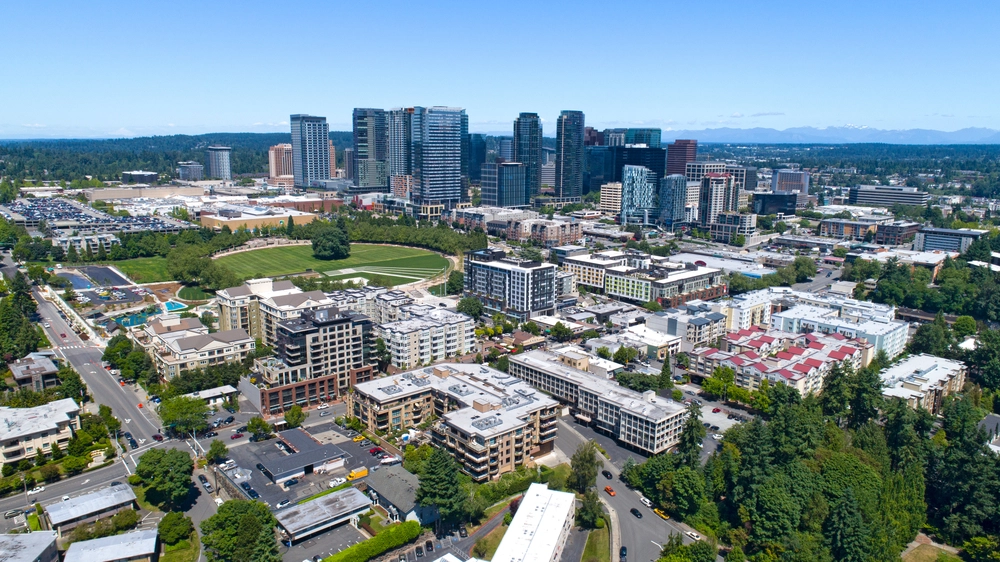 Bellevue, Washington, is the third-largest city in the metro Seattle area.
It has a reputation as being one of the best places in the metro Seattle area in which to live. It is known for attractions like the Bellevue Botanical Garden and Bellevue Downtown Park. Even in this pleasant city, though, drug and alcohol addiction is plaguing the citizens.
Marijuana is currently legal thoughout the state of Washngton, and residens have easy access to the substance. Prescription medicines and alcohol are two examples of other legal substances that can be dangerous and addictive. When these substances are misused, they can do serious damage to the lives of individuals and their loved ones.
Life can seem rather hopeless for those who are in the middle of substance abuse issues. However, all hope is not lost. Substance use disorder is a disease that can be treated, and there are many addiction specialists throughout the Bellevue area that are ready to help you.
Our Closest Facility
The Recovery Village Ridgefield
888 Hillhurst Rd. Ridgefield, WA 98642
(877) 594-0735
Bellevue Detox Centers
Once you've chosen to begin a path to recovery, ridding your body of any harmful substance it has become addicted to is the first step. This is also known as the detox process. For substances like LSD and methamphetamine, the physical withdrawal symptoms are few. However, for other substances like opiates and alcohol, there are significant withdrawal symptoms.
With a substance like these, the patient will need to have medical supervision throughout the detox process. In these cases, detox centers can be a great help. In a detox center, medical professionals are provided to assist patients through the detox process.
While a detox center can certainly be beneficial, the bettter option is a national treatment center like The Recovery Village Ridgefield that offers inpatient treatment programs following a medical detox program. In this treatment, addiction specialists and medical professionals will help you to address the psychological and mental aspects of your addiction.
Bellevue Drug and Alcohol Addiction Treatment Programs
Patients enrolled in an inpatient (residential) treatment program stay in the facility for 24 hours a day, 7 days a week. A residential program may last 30, 60 or 90 days typically although there are treatment centers that offer longer or shorter programs.
Inpatient treatment programs involve activities like therapy (in group settings as well as one-on-one settings), substance abuse courses, edducational opportunities and healing and recreational activities. Patients who presently need a stable and drug-free living environment may also benefit from a residential treatment program. In such a program, they can focus on their healing entirely.
Residential or Inpatient Treatment Programs
In an inpatient treatment program – also known sometimes as residential or retreat-based treatment – the patients will stay in the facility for 24 hours a day, 7 days a week. The program can last from 30 days to 60 days to 90 days. Some facilities offer shorter programs or longer programs. In some cases, patients can even stay in a facility for up to six months.
Residential treatment programs will involve counseling (in one-on-one and group settings), substance misuse courses and educational opportunities as well as recreational and healing activities. Patients who are currently in need of a stable, structured living situation may benefit from an inpatient treatment program where they will be given the time and space to really focus on their healing.
Outpatient Treatment Programs
The partial hospitalization program is an outpatient program. While patients are on campus in the treatment center for most of the day — participating in similar activities as the residential patients — they are permitted to go home in the evenings.
For the patient who doesn't need as intensive care, the outpatient treatment program might be a better option. They only spend 10 to 20 hours on campus at the facility each week. While outpatient treatment may be the most convenient option, it should be advised that patients who aren't ready for this level of treatment should begin with a higher level.
Value Your Health
It may seem like an inconvenience to stop everything in your life and take the time to receive the treatment that is necessary for your substance use disorder. However, if you don't receive the treatment you need, you may not have the things in your life that make it an inconvenience. You are actually treating your family, your career, your education and your life with much more respect and care when you take the time that you need to focus on your own recovery.
Heroin Deaths in the Seattle Area
HEROIN
FATALITIES UP
58
PERCENT IN
2014
In 2014, the number of fatalities due to heroin jumped up 58 percent. This is a drastic change. This epidemic is affecting millions of people all across America. Fortunately, many people are still able to begin a successful path to recovery by visiting national rehabilitation facilities like The Recovery Village Ridgefield.
Bellevue, Washington Recovery Meeting Options
There are many groups like SMART Recovery, Alcoholics Anonymous and Narcotics Anonymous that will assist you in your recovery by providing regular meetings for you to attend. This is the crux of an effective aftercare plan. You have to value your recovery long after you complete your treatment program, and regular AA, NA or SMART Recovery meetings is one way to do this. Fortunately, there are many different options for meetings in the Bellevue area.
Alcoholics Anonymous Meetings in Bellevue
Alcoholics Anonymous (AA) is the largest recovery group on the planet with meetings in over 170 nations. Based on the famous 12 steps, AA offers regular meetings to members. These meetings consist of open and honest discussions lead by an experienced member of the group where anyone in attendance is able to share their experiences with everyone and ask for support if needed. There are many AA meetings in the Bellevue area. Here are a few.
Meetings Near Bellevue, WA
Wake Up Group
Alano Club of the Eastside
12302 NE 8th St.
Bellevue, WA 98005
Fresh Start Group
Alano Club of the Eastside
12302 NE 8th St.
Bellevue, WA 98005
Nameless Bunch of Drunks Group
Bellevue Christian Reformed Church
1221 148th Ave. NE
Bellevue, WA 98007
Narcotics Anonymous Meetings in Bellevue
Narcotics Anonymous (NA) is the second largest recovery group in the world with meetings in over 130 countries. This is a 12-step group like Alcoholics Anonymous but their focus is primarily on those who struggle with an addiction to harder substances than alcohol – substances like opiates, benzodiazepines or stimulants, for example. NA meetings are very similar to AA meetings, and there are many options for NA meetings in Bellevue. Here are a few.
Meetings Near Bellevue, WA
Eastside Alano Club
12302 NE 8th St.
Bellevue, WA 98005
Holy Cross Lutheran Church
4315 129th Pl. SE
Bellevue, WA 98006
Overlake Park Presbyterian
Church of Bellevue
1836 156th Ave. N. E.
Bellevue, WA 98007
SMART Recovery Meetings Near Bellevue
For those people who have substance use disorder and don't get as much out of 12-step meetings, SMART Recovery may be a better fit. SMART Recovery is an alternative to groups like AA and NA, and they encourage members to rely on themselves. Where 12-step groups asks members to look to a higher power, SMART Recovery asks members to look inside themselves. Here are a couple of options for meetings in the Bellevue area.
Meetings Near Bellevue, WA
Everett Community Justice Center
8625 Evergreen Way
Suite 108
Everett, WA 98208
Mercer Island Martial Arts
2630 77th Ave. SE
Mercer Island, WA 98040
Al-Anon and Nar-Anon Meetings in Bellevue
Nar-Anon and Al-Anon are sister organizations to the 12-step groups, Narcotics Anonymous and Alcoholics Anonymous, and they are meant for the loved ones of those who suffer from substance use disorder. It can be difficult and painful at times to be the child, sibling, parent or spouse of someone who struggles with drug or alcohol addiction. In a Nar-Anon or Al-Anon meeting, loved ones can gather together and share their experiences with each other. Here are the Nar-Anon and Al-Anon meetings in the Bellevue area.
Meetings Near Bellevue, WA
Nar-Anon
St. Margaret's Episcopal Church
4228 Factoria Blvd.
Bellevue, WA 98006
Al-Anon
St. Andrew's Church
2650 148th Ave. SE
Bellevue, WA 98007
Al-Anon
Alano Club of Eastside
12302 NE 8th St.
Bellevue, WA 98005
Substance Abuse Treatment Resources in Surrounding Communities
There are quite a few cities around Bellevue, Washington, that also offer many helpful addiction treatment options in the way of rehabilitation centers, detox centers, medication-assisted treatment and recovery meetings. Here are some of the cities you may want to explore for additional options.
Seattle, Washington
Tacoma, Washington
Renton, Washington
Redmond, Washington
Kent, Washington
Everett, Washington
Bothell, Washington
Olympia, Washington
Areas Served
98004
98005
98006
98007
98008
98009
98015
Let's talk about your recovery