Prescription Meds Cause More Overdoses in Washington Than Illegal Drugs
If you or a loved one is struggling with addiction, help is available. Speak with a Recovery Advocate by calling
(855) 602-7202
now.
The opioid crisis in Washington State has exceeded the devastation caused by illegal drugs. Who would have predicted, less than a decade ago, that legally prescribed drugs like oxycodone and Percocet would exceed street drugs like cocaine and heroin?
This article looks at the opioid crisis in Washington State. Unlike some other parts of the country, more overdose deaths are caused by prescription meds than illegal drugs in Washington State. Where can residents turn for help in beating an addiction to prescription drugs?
Washington State Drug Rehab Sees More Legal Opioid Addictions
To understand the explosive growth of addiction to legal drugs, see the chart below showing the increase in opioid overdoses in Washington State. The rate of addiction, overdose, and death continue to rival national averages, to the detriment of families, individuals, businesses, and communities.
Prescription drug abuse in Washington State is pervasive; the statistics show that the death rate from overdose hovers around 10 per 100,000 people in the state. To understand the reality residents face in the Washington State drug rehab community, look at the numbers:
Since 2010, deaths from heroin overdoses increased from 60 statewide to 303.
But overdose deaths from prescription opioids are approaching twice as high, at 550.
The Washington State Office of the Attorney General reported that 718 Washington residents died from an opioid overdose, which was more than the entire car accidents combined.
For every 100 people in Washington State, doctors write 68.2 prescriptions for legal and highly addictive opioid medications.
In 2015 an average of two people every day died from an opioid overdose.
Six out of every 10 drug overdoses occur from opioids in the state.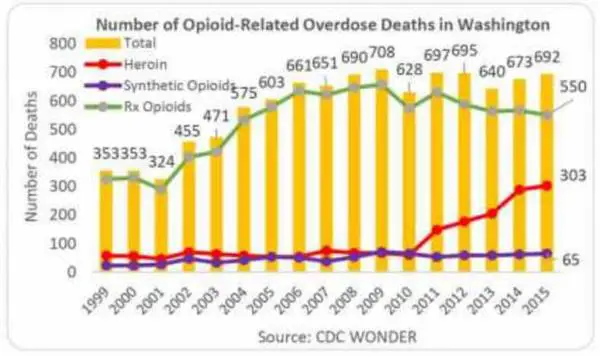 While chronic pain is a terrible problem among residents in the state, the opioid epidemic has escalated to the point that the Governor signed an Executive Order declaring a state emergency. The benefit is that additional resources can be released to Washington State drug rehab facilities to fight the crisis.
Fighting Back in Washington State Drug Rehab
The state government has joined forces with the Washington State drug rehab community to fight the problem. Last year the rehab community and government worked together to develop a plan to combat the crisis. This process culminated in the Governor's Executive order, an event widely commended as both necessary and life-saving.
But none of these efforts take the place of an individual's decision to fight back against the disease of addiction on a personal level. Prescription drugs are wrecking the lives of families all over the state. But Washington State drug rehab gives people a chance to work with trained professionals to mitigate the physical and psychological effects of these disorders.
While prescription drug abuse is different from prescription drug addiction, one can easily slip into the other. If you have an uncontrollable craving for your prescription medication, it might be time to call us. It is important that you stop the cycle before it escalates. If you or any of your loved ones are struggling with prescription pain medication, contact us for judgment-free help in Washington State drug rehab.
Let's talk about your recovery