Drug and Alcohol Addiction Treatment Resources in Eugene, Oregon
If you or a loved one is struggling with addiction, help is available. Speak with a Recovery Advocate by calling
(855) 602-7202
now.
Eugene, Oregon, is known to be one of the best places to live. It's known for a vibrant arts scene and beautiful outdoors. It's known as the home of such beautiful attractions as Alton Baker Park and Hendricks Park. However, even in this city which is known to be one of the best places to live, the epidemic of substance abuse plagues its residents.
As marijuana is now legal in the state of Oregon, citizens have much easier access to the drug. Other legal substances such as prescription medication and alcohol can be quite destructive when misused. Prescription medications like opioids (hydrocodone, oxycodone, etc.); stimulants (Adderall, Ritalin, etc.); and benzodiazepines (Xanax, Valium, etc.) can be misused or used outside of the prescribed amounts and cause a lot of damage to families and individuals.
For those who are in the middle of drug or alcohol addiction, life can seem pointless, but things aren't as dark as they might seem. Alcohol and drug addiction is a disease that needs treatment, and there are many healthcare professionals and addiction specialists throughout the area that will treat your substance use disorder.
Our Closest Facility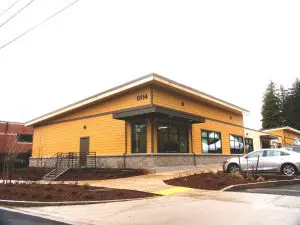 The Recovery Village Ridgefield Detox Center
5114 NE 94th Ave Vancouver, WA 98662
(844) 527-0121
Eugene Detox Centers
The first thing you'll want to do when you decide to get sober is to eliminate the harmful substances from your body. This is what is known as detox. For substances like marijuana and hallucinogens, there are no withdrawal symptoms so all you have to do is stop using the substance. However, for substances like alcohol and benzodiazepines, withdrawal symptoms can be severe, even fatal.
In the case of alcohol, opioids or benzodiazepines, the patient will need to be weaned off the substance and monitored by healthcare professionals as he or she goes through the withdrawal symptoms. Many patients go to detox centers for this purpose. Detox centers are helpful as they provide medical supervision to patients who are going through detox.
There are many options for Eugene detox centers. The only negative aspect of a detox center, however, is that they will do nothing to treat the psychological, emotional and mental aspects of your substance use disorder. For this reason, it's much more effective to visit a treatment center like The Recovery Village Ridgefield that provides treatment programs as well as medically assisted detox.
Eugene Drug and Alcohol Addiction Treatment Programs
There are different options that will be available to you in terms of treatment programs at rehab centers in Eugene, Oregon. Inpatient treatment may be necessary in your case. It could also be that outpatient treatment will suffice. The details of your circumstances will determine what type of treatment program you will be in need of.
Turning to an experienced addiction specialist is one of the best things you can do when you are trying to find the ideal treatment. In a national treatment facility like The Recovery Village Ridgefield, there are many highly skilled and experienced healthcare professionals and addiction specialists who will work together to formulate an individualized treatment plan.
Residential or Inpatient Treatment Programs
In a residential treatment program – also known as inpatient treatment – the patients live in the facility 24 hours a day. Usually, the program is around 30 days. There are some facilities that offer shorter or longer programs. In certain cases, patients may stay in a facility for up to six months.
Counseling (both individual and group), substance misuse classes, recreational and healing activities and educational opportunities will all be offered to residential treatment program patients. If a patient is currently lacking a stable or safe living environment, a residential treatment program may be a good option as it will provide them with that.
Outpatient Treatment Programs
The partial hospitalization program (PHP) is an outpatient program. Patients will participate in all of the same activities as residential patients, but they will go home at night. This option is best for patients who do currently have a stable and safe living environment. It's also helpful for these patients to have a support system.
Outpatient treatment programs are the most flexible option. Patients that don't need as intensive care are good candidates for outpatient treatment. While they too participate in all of the same activities as residential and PHP patients, they are only in the facility for 10 to 20 hours during the week. This is not a good option for patients who have a high risk of relapse due to all the flexibility it provides.
Your Health is Important
Stopping everything in your day-to-day life to go to a facility and receive treatment may be inconvenient. It is important, however, that you give yourself a break from your daily routine to focus on your own healing. Without seeking the treatment you need, you won't be able to fulfill your commitments anyway. When you take the time to heal, you are treating your job, your family, your education and your life with more consideration.
Alcohol Addiction in Eugene
It isn't just illegal substances that can do a lot of damage in peoples' lives. In the state of Oregon, Eugene has one of the highest rates of alcoholism and drinking. Alcohol addiction can be just as destructive as drug addiction. Luckily, many people are able to discover a path to healing at facilities like The Recovery Village Ridgefield.
Eugene, Oregon Recovery Meeting Options
Alcoholics Anonymous, Narcotics Anonymous and SMART Recovery are three examples of recovery groups that meet regularly in the Eugene area. One of the most important things you can do after completing a treatment program is find a regular recovery meeting that you can attend. Here are some options for the Eugene area.
Alcoholics Anonymous Meetings in Eugene
Everyone knows the standard greeting people give when they introduce themselves in an Alcoholics Anonymous (AA) meeting. "Hi, I'm Joe, and I'm an alcoholic." AA is the most popular and most respected recovery group in the world. One of the most important steps in the 12-step program utilized by AA is admitting that one's life has become unmanageable and that one is, in fact, an alcoholic. This is where the famous greeting comes from. There are a number of AA meetings in Eugene. Here are a few.
Meetings Near Eugene, OR
Sunday Women's Step Study Group
Unity of the Valley Church
3912 Dillard Rd.
Eugene, OR 97405
Try God Group
McNail-Riley House
601 W. 13th Ave.
Eugene, OR 97402
Following the Directions Group
JESCO Club
340 Blair Blvd.
Eugene, OR 97402
Narcotics Anonymous Meetings in Eugene
The second largest recovery group in the world is Narcotics Anonymous (NA) with meetings in over 130 countries. Using the same 12 steps as Alcoholics Anonymous, NA focuses instead on those who suffer with drug addictions, specifically. The NA meeting is also an open discussion like AA meeting where members can share their strength, experiences and hope. Here are a few options for NA meetings in Eugene.
Meetings Near Eugene, OR
Old Green House
724 Washington St.
Eugene, OR 97401
Salvation Army
640 West 7th Avenue
Eugene, OR 97402
McNail Riley House
601 W. 13th St.
Eugene, OR 97402
SMART Recovery Meetings Near Eugene
For some people, 12-step groups like Narcotics Anonymous and Alcoholics Anonymous don't resonate. SMART Recovery might be a better fit for these individuals. SMART Recovery is for anyone who deals with addiction – to drugs, alcohol and even gambling. SMART Recovery focuses more on self-sufficiency and self-reliance. Here are a couple of meetings in the Eugene area.
Meetings Near Eugene, OR
Milestones
518 SW 3rd St.
Corvallis, OR 97333
Oregon State University
Corvallis, OR
97331
Al-Anon and Nar-Anon Meetings in Eugene
The sister organizations to NA and AA dedicated to the friends, family members, co-workers and loved one of those who suffer from drug or alcohol addiction are called Nar-Anon and Al-Anon. Loving someone who suffers from substance use disorder can be emotionally draining. Sometimes these loved ones need to meet with like-minded individuals for support. Here are some of the options for Nar-Anon and Al-Anon meetings in the Eugene area.
Meetings Near Eugene, OR
Nar-Anon
Wesley United Methodist Church
1385 Oakway Rd.
Eugene, OR 97401
Al-Anon
Westminster Presbyterian Church
777 Coburg Rd.
Eugene, OR 97401
Al-Anon
Gilham Community Church
3633 Gilham Rd.
Eugene, OR 97408
Substance Abuse Treatment Resources in Surrounding Communities
There are a number of cities around Eugene, Oregon, that have a lot of additional substance abuse resources to offer in the form of drug and alcohol rehab, detox centers, recovery meetings and medication-assisted treatment. Here are several cities that you might want to explore.
Salem, Oregon
Corvallis, Oregon
Beaverton, Oregon
Portland, Oregon
Hillsboro, Oregon
Newport, Oregon
Bend, Oregon
Olympia, Oregon
Areas Served
97401
97402
97403
97404
97405
97408
97440
Let's talk about your recovery