Intensive Outpatient Program (IOP)
If you or a loved one is struggling with addiction, help is available. Speak with a Recovery Advocate by calling
(855) 602-7202
now.
Finding the right kind of treatment program can have a significant impact on individual treatment outcomes. There are several levels of treatment intensity with varying approaches. Intensive outpatient programs also called IOPs, are just one option. These programs are unique in their flexibility and high success rates for people with substance use disorders.
What is an Intensive Outpatient Program?
To understand what an intensive outpatient program is, it is helpful to first understand what IOP is not. This type of program is not a residential or inpatient program — in most cases, people in intensive outpatient programs are able to remain in their current living situation during treatment. In some cases, a person may prefer to move into a sober living house while participating in an intensive outpatient program to receive additional support.
What to Expect in IOP
In this type of program, patients can expect to be able to maintain the majority, if not all, of their day-to-day responsibilities. Treatment can be scheduled around work and other commitments. Sessions take place on a part-time basis, meaning that the intensive outpatient program schedule is more flexible than that of an inpatient program. Patients wondering what to expect in IOP will often find that many of the services provided are comparable to inpatient treatment services, though at a lower intensity.
Services Offered
Intensive outpatient services generally consist of nine hours of treatment each week and include individual, group and family therapy. Patients in intensive outpatient therapy programs may also be required or encouraged to participate in other activities outside of this timeframe.
Some of the therapeutic approaches and strategies commonly used in intensive outpatient programs include:
Cognitive behavioral therapy
Dialectical behavioral therapy
Medication management
Relapse prevention
12-step fellowship and other support groups
Benefits of IOP
There are many benefits of intensive outpatient treatment. Some of the benefits most commonly lauded by participants include:
More flexibility
Greater autonomy and independence
Less disruption in daily activities
Lower cost
Easier to initiate services
Is IOP Right for You?
Just because intensive outpatient programs have many benefits does not mean they are a good fit for everyone seeking treatment.
The ideal candidate for IOP has:
Completed inpatient medical detoxification, if necessary
Basic coping skills
Personal motivation or desire to stop using
Supportive personal relationships
In many cases, these types of programs are used as a step down from inpatient treatment. For individuals who plan to go to inpatient treatment, it may be helpful to identify an intensive outpatient program to begin once discharged.
Intensive Outpatient Programs in Washington & Oregon
For individuals seeking an intensive outpatient program in Washington state, one great resource is The Recovery Village Ridgefield. Offering many evidence-based programs for both men and women struggling with substance use and convenient to Seattle and Portland, The Recovery Village Ridgefield is surrounded by the beautiful scenery of the Pacific Northwest.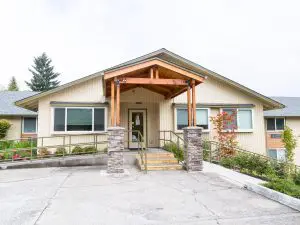 The Recovery Village Ridgefield
888 Hillhurst Rd. Ridgefield, WA 98642
(844) 770-4306
If you or a loved one need help for a substance use disorder, reach out to The Recovery Village Ridgefield today. Representatives are available 24 hours a day, seven days a week to discuss treatment options and connect you to care that heals. Call today to get started.
Let's talk about your recovery