Benzodiazepine Addiction Treatment and Rehab in Washington
Last Updated: May 30, 2023
Editorial Policy | Research Policy
Going through treatment for benzodiazepine addiction is a challenging but life-saving process. Benzodiazepines (frequently called "benzos") are commonly used to treat anxiety or sleep disorders and they can have a sedative, relaxing effect. Although those effects can help manage certain medical conditions, they also make benzos popular drugs to misuse.
Addiction or dependence on benzos can be the result of chronic, high-dose use. Benzo addiction is linked with dangerous, short-term and long-term side effects.
Benzodiazepine addiction treatment can include a combination of withdrawal management and new strategies to help patients cope with withdrawal symptoms and recover from addiction. Rehab for benzodiazepine addiction helps patients improve their health and regain their freedom from substance addiction.
Benzodiazepine Treatment Options
The strategies used for treating benzodiazepine addiction can vary depending on whether the use of benzos is prescribed, the amount consumed and any other underlying substance abuse or mental health problems. Treatment might include withdrawal monitoring in a supervised setting, then inpatient or outpatient care and therapy, followed by ongoing skill development and supervision to help establish long-term sobriety.
Inpatient Rehab
The first stages of benzo addiction treatment usually include withdrawal. Withdrawing from benzos must be done carefully, as stopping usage too quickly can cause seizures or other serious side effects.
Depending on benzo usage, the withdrawal process can be completed at an inpatient facility, like a hospital or rehab center, allowing for close supervision of the withdrawal process. For patients who regularly took high doses of benzos, withdrawing should be done in a hospital setting.
Inpatient treatment provides a safe and supervised environment. Along with or following withdrawal, patients may begin therapy to address the underlying causes of their addiction. The type of therapy depends on the severity of the addiction and the presence of other psychiatric problems (i.e., depression or schizophrenia).
Outpatient Rehab
For patients using lower doses of benzos or who do not have complex co-occurring conditions, outpatient rehab can be a good recovery option. Outpatient programs for benzo addictions include a slow withdrawal process, which will include an incremental reduction in dose each week or every couple of weeks as advised by a doctor.
People participating in outpatient rehab remain in contact with health professionals and may also attend therapy sessions. Therapy may include individual therapy or group therapy and can focus on addiction, cognitive behavioral therapy, learning new coping skills or relaxation techniques.
Aftercare
Recovery is an ongoing process. Once a patient completes a specific rehab program, it is important that they continue aspects of treatment as they transition back to regular life. This process is known as aftercare and it can help a patient maintain sobriety once treatment ends.
Aftercare can include:
Keeping up with doctor or psychiatrist appointments
Living in a sober-living facility
Regularly attending individual or group therapy sessions
Aftercare plays an important role in recovery, as it helps people develop new coping skills outside of substance use. This part of the treatment process can support a patient's recovery as they return to their regular activities.
How Long is Benzodiazepine Treatment?
As with most treatment programs, benzo addiction treatment length depends on a patient's history, other mental health conditions and whether they use any other substances.
For patients using only benzos, recovery may take several weeks or months. Importantly benzos should be discontinued gradually to avoid seizures or severe withdrawal symptoms. Withdrawal from moderate doses of benzos can take approximately four to six weeks.
Following the initial withdrawal process, it is important that recovery includes strategies that can help patients avoid relapse. This effort typically involves some form of therapy, which can include cognitive behavioral therapy or relapse prevention programs.
In addition to the initial withdrawal process, benzo treatment can last several weeks to months. Treatment for underlying mental health problems or substance abuse may continue for longer.
How Much Does Benzodiazepine Rehab Cost?
The upfront costs of benzo rehab can be expensive but living with an addiction can be more expensive overall.
The cost of benzo rehab depends on an individual's needs, the type of rehab program and whether inpatient detox is required. The cost of rehab may seem daunting, but treatment can eliminate the potential for future medical and legal costs related to addiction.
Some outpatient treatment or group therapy programs may be accessible at no cost. Highly structured or clinic-based outpatient programs can cost between $1,000 to over $10 000, depending on the length and intensity.
The price of inpatient treatment depends on the length of stay. For hospitalizations or residential care, the cost of a treatment program can cost a couple of thousand dollars for a basic program, to tens of thousands of dollars for a more intensive program. Inpatient fees usually cover all care and associated living costs, including meals.
Does Insurance Cover Rehab for Benzo Addiction?
Recent health care reform requires that mental health conditions, like substance use disorders, receive the same insurance coverage as physical conditions. The type and duration of treatment that is covered by insurance can depend on individual coverage plans. It's best to discuss treatment options and meet with a facility team to discuss insurance coverage.
Finding a Benzodiazepine Treatment Center in Washington
There are thousands of substance use treatment options throughout the country, but local inpatient and outpatient treatment options are available for Washington residents.
Treatment options can be searched using service locators, like the one hosted by the Substance Abuse and Mental Health Service Administration. Benzodiazepine rehab centers often operate out of private facilities. Information on outpatient services or 12-step programs is typically available locally or through specific community programs.
The Recovery Village Ridgefield offers a residential treatment center and detox center. Both locations are accessible from Seattle and Vancouver, Washington, and nearby Portland, Oregon.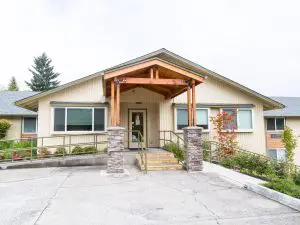 The Recovery Village Ridgefield
888 Hillhurst Rd. Ridgefield, WA 98642
(855) 703-1445
The first step of recovery is reaching out for help. If you or a loved one suffers from benzo addiction, contact The Recovery Village Ridgefield today to discuss treatment options.
Questions?
Our Recovery Advocates are ready to answer your questions about addiction treatment and help you start your recovery.