Bath Salts Addiction Treatment
Last Updated: May 30, 2023
Editorial Policy | Research Policy
"Bath Salts" is a slang term for synthetic cathinones, which are human-made stimulants chemically related to cathinone, a stimulant derived from the khat plant. The term itself first originated because companies selling synthetic cathinones were actually marketing an addictive psychoactive substance. They managed to get around local and federal law by labeling the substance as, "Not for human consumption."
Synthetic cathinones are derived from the chemical cathinone found in Khat, a shrub that grows in East and Southern Africa known for its stimulant effects. Examples of synthetic cathinones include:
3,4-methylenedioxypyrovalerone (MDPV)
Amfepramone
Mephedrone
Methcathinone
Methedrone
Methylone
The most well-known bath salt is likely MDPV, but they all can have a high potential for addiction and abuse.
Synthetic cathinones are classified as Schedule I controlled substances according to the Drug Enforcement Administration (DEA). Schedule I drugs have no recognized medical use and a high potential for abuse.
Bath salts addiction treatment is similar to treatment for other stimulants like methamphetamine, cocaine, and MDMA and may include medical detox, inpatient or outpatient treatment and aftercare support.
Treatment Options for Bath Salts
If someone is currently taking bath salts, they will first enter medical detox. People who are currently not using bath salts may skip this step and proceed straight to residential or outpatient treatment.
The treatment phase can occur in a variety of settings, depending on the needs of the individual. In general, people who need higher levels of care will receive more structured treatment.
Medical Detox
Detox is the time when a drug or toxin is leaving the body. This period varies from person to person but generally includes uncomfortable withdrawal symptoms that develop as the body adjusts to being without the drug.
Research around synthetic cathinones is so new that medical professionals do not have a clear picture of the symptoms someone experiences during withdrawal. However, people detoxing from bath salts have reported a variety of symptoms related to cravings, mood, and physical issues.
During medical detox, a team of physicians, nurses and psychologists are available to ensure that detox happens in a safe environment to minimize harm. Medical detox is safer than detoxing at home and allows a person to receive around-the-clock support when they need it.
Residential Rehab
Residential rehab is where someone lives onsite at a treatment facility, usually for 28 days or more. The advantages of residential treatment involve the removal of peer and environmental pressures and putting the client in a highly structured environment.
Residential rehab is the best option for people with a high likelihood of experiencing a setback. If a person feels they will immediately return to drug or alcohol use after medical detox, residential treatment is the best option.
During residential treatment, people engage in highly structured treatment programs that involve single and group therapy sessions. Participants may engage in stress reduction techniques like art therapy.
A common method of counseling during treatment is cognitive-behavioral therapy (CBT). During CBT, people are encouraged to explore the reasons they use or misuse substances. Learning more about how a substance affects someone's daily life can contribute to a stronger determination to maintain sobriety.
Outpatient Rehab
Outpatient rehab is a form of treatment where participants visit a treatment center during the day and return home, or to a sober living facility at night. Those at a lower risk of experiencing a setback may find that outpatient treatment is a better option.
Outpatient treatment can happen while a person continues their regular routine. They can keep working or attending their other obligations while receiving treatment.
Outpatient treatment typically includes group therapy one or more times per week. The treatment plan may also include individual therapy sessions with a substance abuse counselor.
Outpatient rehab focuses on different topics that may be helpful to a person with substance use disorder, including identifying the behaviors that led them to substance use in the first place, risk factors for setbacks (triggers), and a setback plan in case they notice triggers are affecting them.
Dual Diagnosis
Some people who use substances have more complex needs than others — such as people with co-occurring mental health and substance use disorders, also known as dual diagnosis.
Dual diagnoses are more complicated to treat because symptoms of substance use disorder and may overlap with mental health symptoms. To have the most effective outcome a person with a dual diagnosis should receive treatment for both conditions at the same time.
Aftercare and Sober Living
Following treatment, a person may enter the aftercare and sober living phase. During this phase, people will focus on what they learned in treatment to maintain their sobriety.
Types of aftercare programs include sober living, support groups and alumni programs. Sober living homes allow individuals to transition back into life after treatment in a structured environment where they are held accountable and provided with ongoing support to maintain sobriety.
Support groups including 12-step programs and SMART Recovery offer an ongoing support system and a chance to connect with others facing similar struggles. Alumni programs allow former rehab patients to stay connected and keep each other motivated in their recovery.
Choosing a Bath Salts Rehab Center in Washington or Oregon
Deciding to go to rehab can be a turning point in a person's life. People in recovery often cite the moment they entered treatment as the most important of their lives.
Therefore, choosing the right facility may have a major impact on the effectiveness of treatment down the road. Some factors regarding treatment to keep in mind include:
Cost: Cost varies by location, treatment center, insurance coverage, and many other factors. Some programs also offer scholarships and sliding scale fees to help with costs.
Methods of treatment provided: Look for a center that offers individualized programs that will work well for you. For example, individuals with a co-occurring mental health condition should search for facilities that offer dual diagnosis programs for the best chance at recovery.
Duration of treatment: While many programs range from 28 to 90 days, research has shown that the most effective programs last at least 90 days. Since positive treatment outcomes are often contingent on an adequate length of stay, individuals should not always opt for the program they can join for the shortest amount of time.
Staff-to-patient ratio: A high staff-to-patient ratio is ideal to ensure each patient receives the attention and care they need. The facility should provide information about their staff-to-patient ratio.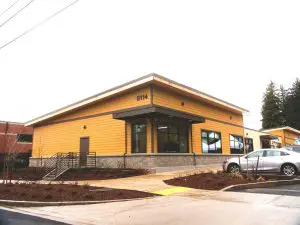 The Recovery Village Ridgefield
888 Hillhurst Rd. Ridgefield, WA 98642
(877) 704-0039
The Recovery Village Ridgefield offers a residential treatment center and detox center conveniently located on the border between Washington State and Oregon. The scenic background of the Pacific Northwest serves as an ideal setting for recovery.
People with first-hand experience with synthetic cathinones know how damaging they can be. If you or someone you know is struggling with addiction to bath salts, please call The Recovery Village Ridgefield. Take the first step toward a healthier future, reach out today.
Questions?
Our Recovery Advocates are ready to answer your questions about addiction treatment and help you start your recovery.